Kawasaki KRX 1000 Winch Mount by KFI Products
Fits:
Kawasaki Teryx KRX 1000 (2020+)
Features:
100% MADE IN USA.

Plate Constructed of 3/16" steel.

Fairlead bracket constructed of 1/4" steel.

Unlike all other mount competitors, our mounts are metal bead blasted before they are powder coated for the best possible finish prep.

Powder coated black for supreme durability.

Very easy to install.

Complete installation instructions included.

All mounting hardware included.

Satisfaction guaranteed.

Roller fairlead and winch not included.
Below winches will mount with no needed additioanl parts:
KFI: ST17 / A2000 / A2500-R2 / A3000 / U45-R2 / U45w-R2 / SE25 / SE35 / SE45-R2 / SE45w-R2
KFI: AS-50 / AS-50w
WARN:VRX 25 / VRX 25-S / VRX 35 / VRX 35-S / VRX 45 / VRX 45-S
WARN:A2000 / A2500 / U2500
WARN:RT15 / RT25 / RT30 / XT15 / XT25 / XT30
WARN:RT40 / XT40
WARN:Vantage 2000-4000lb
WARN:ProVantage 2500-4500lbs

RAMSEY : ATV2500 / ATV3000

SUPERWINCH : Terra25 / Terra35 / Terra 45 / A3500 / LT2000 / LT2500 / LT3000 / LT4000ATV / LT4000UTV

MILE MARKER :PE2.5 / PE 3.5 / VMX2.5 / PE2000 / PE3000 / PE2500 / PE3500 / PE5000
CYCLE COUNTRY : Powermax 2500 / 3500 / 4500
BADLAND: Standard Winches (Click Here for Details)
BADLAND: WIDE Winches (Click Here for Details)
CHAMPION : Standard Winches (Click Here for Details)
CHAMPION : WIDE Winches (Click Here for Details)
KEEPER CORP. TRAKKER :KT3000 / KT2500C / KT3000C / KT4000
SMITTYBILT :XRC 2.0SMITTYBILT :XRC 3.0 / XRC 4.0

Requires roller fairlead with a 4.875" bolt pattern; available if needed #ATV-RF.
Listed models come with incorrect ATV roller fairleads.

XGEAR: X3000 / X4000

4-Hole Standard (3.00" x 4.875" bolt pattern)

VENOM: 2000 / 2500 / 3000 / 3500 / 4000 (Hardcore Series)Traveller: 1078311

All with 3.00" x 4.875" bolt pattern mount-up
All with 3.00" x 6.600" bolt pattern mount-up

Traveller:1078088 / 1078302

Requires roller fairlead with a 4.875" bolt pattern; available if needed #ATV-RF

Possibly many others with the below standard mounting patterns, call to confirm.QUADBOSS: RP25 / RP35

4-Hole (3.00" x 4.875" bolt pattern with rollers that are 4.875" bolt pattern)
4-Hole WIDE (3.00" x 6.60" bolt pattern with rollers that are 6.600" or 6.000" bolt pattern)
2-Hole (3.10" with rollers that are 4.875" bolt pattern)
Below winches will mount with the required additional purchase of KFI Spacer Kit #101210: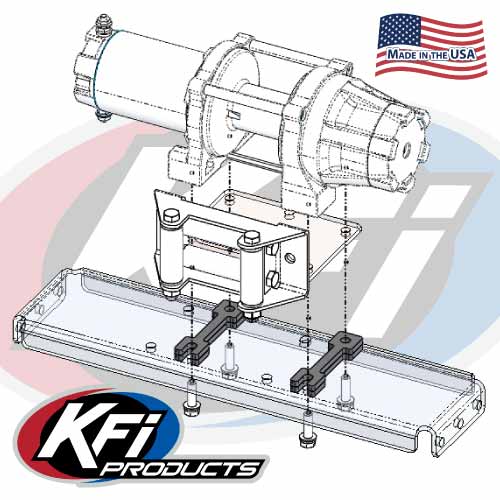 KEEPER CORP. TRAKKER: KT4000C
VENOM: 4500 / 5000 (Hardcore Series)
KOLPIN: 2500 / 3500 / 4500

All with 3.00" x 4.875" bolt pattern mount-up
All with 3.00" x 6.600" bolt pattern mount-up